WYNAJEM POWIERZCHNI EVENTOWEJ
Organizacja imprez w przestrzeniach PKiN
Events Department
Phone:
22 656 7727
or
22 656 6141
Office:
tel. 22 656 7723
tel. 22 656 7780
tel. 22 656 6345
tel. 22 656 7734
tel. 22 656 6189
Halls and rooms
Congress hall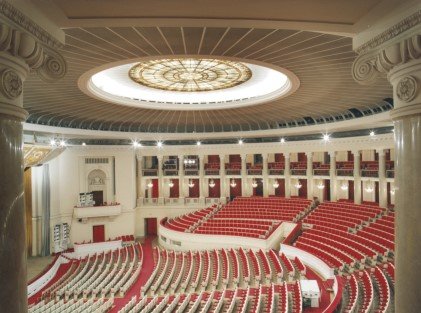 Please be advised that the Congress hall of the Palace of Culture and Science is under renovation. Reservations are not yet accepted.
2 800 seats on 3 levels
several break-out meeting rooms
2 500 sqm lobby
facilities to accommodate accompanying events (banquettes, exhibitions)
fully equipped (sound amplifying system, lighting system, stage equipment)
conference interpreting facilities
comfortable dressing rooms and technical backup
Recepcja VIP
VIP reception
The whole area of the hall equipped with balconies, stall boxes, huge amphitheatre for 2,800 pax and adjoining break-out halls constitutes this vast congress center complex. A large foyer may provide with a good place to hold an exhibition or a reception. Its closest vicinity comprises of two smaller conference rooms Mickiewicz and Puszkin, each for 80 persons; 12 smaller lounges for up to 20 persons each, and a VIP area. "Kongresowa" Hall, as well as smaller halls within the complex may be easily connected to the main exhibition areas on the 2nd, 4th and 6th floor, allowing for the arrangements capable of satisfying the needs of an individual client.
"Kongresowa" Hall hosted a variety of stars like Marlena Dietrich, rock bands such as Procol Harum and the Rolling Stones. For years it has been the place of jazz concerts attracting numerous fans, as well as the place of congresses organized by world famous companies e.g.: Microsoft, Nationale Nederlanded, Commercial Union or Zepter International.